Remembering the Orangeburg massacre, and the athlete-activists who took a stand
Two black demonstrators killed in the Orangeburg Massacre lie on the ground at the edge of South Carolina State College in Orangeburg, S.C., on Feb. 8, 1968. (ASSOCIATED PRESS)
Robert Lee Davis found himself lying in blood next to his teammate Sam Hammond. At least one bullet had struck Davis in the back. Another went in Hammond's neck.
Davis recalled in an oral history that Hammond, a running back at South Carolina State, asked him, "Do you think I'm going to live?" Davis, a linebacker, said he answered, "Sam, you are going to be all right, buddy."
Hammond was the first of three young black men to die that night 50 years ago in Orangeburg, S.C. Davis was one of several football players at historically black South Carolina State to survive a hail of police fire with injuries.
What brought them together that Feb. 8, 1968, evening was not a team meeting or the training table. Instead, it was a call to confront a wrong, an affront, an act of overt racial discrimination in Orangeburg at a bowling alley that refused would-be black bowlers just like the state was denying black citizens their human rights.
As a result, Davis and Hammond became athlete-activists long before we created the suddenly ubiquitous, if not trite, alliterative phrase these days to describe football and basketball players, almost all of color, who have, by comparison, merely sported sloganeering T-shirts, or employed histrionics, to demonstrate against racial injustice.
It is a noble and laudable effort, of course. But what we've come to champion of athletes today pales juxtaposed to what so many did in the cauldron of the late '60s civil rights movement. Davis and Hammond, for example, dared to physically confront the very embodiment of the South's recalcitrant racists — scores of carbine rifle-toting, all-white state troopers — for which Hammond forfeited not just his career but his life.
They were among at least 30 victims of what became known as the Orangeburg massacre.
I was reminded of it three years ago as a presenter at the annual Media and Civil Rights symposium at the University of South Carolina. It included a mesmerizing panel featuring a demonstrator that night, civil rights icon and scholar Cleveland Sellers, and a reporter who became legendary for his fearless coverage of the massacre and other civil rights movement era violence, Jack Bass. With Jack Nelson, awarded a Pulitzer Prize for his reporting on the civil rights movement, Bass authored "The Orangeburg Massacre" in 1970.
And I took note that the panelists, particularly Oliver Francis, a one-time baseball player at Voorhees, another historically black South Carolina college, pointed out that black male athletes in particular stepped to the fore in Orangeburg's deadly confrontation with white supremacy, and in others. Francis wound up convicted and sentenced to prison for 18 to 24 months as an organizer in an armed black student takeover in 1969 of the Voorhees administration building.
It all reminded that black athletes played not just pivotal roles in the civil rights movement, like the muscle North Carolina A&T football players provided for their classmates engaged in sit-ins to desegregate the Greensboro, N.C., Woolworth's lunch counter. Or in Rock Hill, S.C., where 10 black Friendship College students were detained by police for trying to desegregate a town lunch counter in 1961 but became known as the Rock Hill Nine after one among them wasn't booked so he could maintain his athletic scholarship. Chicago Bears running back Willie Galimore was the test black registrant at the Ponce de Leon Motor Lodge in St. Augustine, Fla., that became a flash point for desegregation fights in 1964.
And as was evidenced in Orangeburg, black athletes sometimes were even in the vanguard of protests. Samuel Freedman underscored as much in recounting the Orangeburg massacre in his 2014 book, "Breaking the Line: The Season in Black College Football That Transformed the Sport and Changed the Course of Civil Rights."
Freedman wrote: "Shortly after the 1967 football season ended, many of the politically engaged members of the South Carolina State team joined in protests against a segregated bowling alley near the campus in Orangeburg." On Feb. 6, 1968, Freedman reported, Davis and several of his teammates went on their own to the bowling alley and not only were denied admittance but were threatened with arrest by city police for disturbing the peace. Other students eventually joined the football players, objected to the police threats and wound up defending themselves from swinging billy clubs.
Two nights later, Freedman stated, "an all-white force of state troopers opened fire on the student demonstrators, killing three and wounding twenty-eight. Among the dead was one football player . . . Hammond. Several other players were injured by gunfire, one of them temporarily paralyzed."
Davis was that temporarily paralyzed victim.
The student survivors of the massacre refused, however, to be deterred and allow the killings of Hammond, fellow student Henry Smith and high school football player Delano Middleton to be in vain. They organized a march from campus to the state capital 42 miles away to demand justice. Athletes decided to lead the march by running the distance.
"The four young men who approached me about the run were all track and field distance runners," Willis Ham, a South Carolina State baseball player at the time, told the (Orangeburg, S.C.) Times and Democrat five years ago. "Three of the young men were not of American descent, and they simply wanted to express their disgust for the way Americans 'treat their own,' with the one tool that they had to their credit [the ability to run].
"We wanted our fellow students to know how deeply we felt about their determination to go to Columbia [S.C.], and express to state officials how they really felt about the lack of support in the days leading to the massacre."
"It gave us a chance to say that our spirits and drive for freedom from depression would never be destroyed," Ham explained.
The white troopers who fired on the students were exonerated in a trial a year later. The lone conviction from the incident was of Sellers for incitement. He spent seven months in prison. He was pardoned in 1993.
But what Hammond, the football player, first fell for is forever remembered on South Carolina State's campus. Its basketball arena that opened that fateful day, Feb. 8, 1968, was renamed the Smith-Hammond-Middleton Memorial Center.
Kevin B. Blackistone, ESPN panelist and visiting professor at the Philip Merrill College of Journalism at the University of Maryland, writes sports commentary for The Post.
SNCC Legacy Project 2017 Annual Report
The SNCC Legacy Project was very busy in 2017.
SNCC DIGITAL GATEWAY (SDG) Since the SNCC Digital Gateway's debut in December 2016, the project has focused its efforts on assessment and revision of the website, promotion, and the continued development of content, especially creating new material in partnership with SNCC veterans and young(er) activists. Project staff conducted assessment activities throughout 2017 designed to gauge SDG's usability and overall design, as well as to assess the site's effectiveness in conveying a bottom-up, grassroots interpretation of the Civil Rights Movement and passing on the "informational wealth" of SNCC to the next generation. Based on feedback received, the Editorial Board decided to undertake a website redesign, which went live at the end of May 2017. The redesign incorporated a new "Today" section featuring contemporary activists discussing how SNCC's work is relevant to their organizing today in short, engaging videos; added theme buttons that let users navigate the site by important themes like voting rights, Black Power, and the organizing tradition; and made the homepage more active and informative. The project also brought four groups of movement veterans to campus in 2017 to record conversations about Southwest Georgia, Lowndes County, SNCC's internationalism, and song and the Movement. Portions of these conversations are featured in the "Our Voices" section of the website. As of December, the website featured 178 profile pages, 102 event pages, 42 inside SNCC pages, 8 Our Voices sections, and 19 today videos. Project staff and partners have been promoting the SNCC Digital Gateway through social media and mailers. The documenting of the Civil Rights Movement in Southwest Georgia for the SNCC Digital Gateway by residents and former civil rights workers.
2 SUMMER INSTITUTES FOR TEACHERS
Tougaloo College - Mississippi SNCC Legacy Project, working with Teaching for Change, conducted a Summer Institute, held at Tougaloo College, for Mississippi teachers. The week-long institute focused on teaching the Civil Rights Movement from the perspective of those who participated in the Movement. Deborah Menkart, Director of Teaching for Change, and Judy Richardson, SLP Board Member, provided leadership for the Institute. The Summer Institute had the full cooperation and support of Dr. Beverly Hogan, President of Tougaloo College and was funded by Tougaloo College. For more information, see the summary posted by Teaching for Change at http://www.teachingforchange.org/summer-institute-2017). Mississippi teachers at the Tougaloo Summer Institute. The Institute is a collaboration between the SNCC Legacy Project, Tougaloo College, Teaching for Change and Duke University.
Duke University – North Carolina The SNCC Legacy Project, working with Teaching for Change, Tougaloo College and Duke University, received a National Endowment for the Humanities (NEH) grant to conduct a Summer Institute titled, Beyond the Master Narrative of the Civil Rights Movement: Grassroots Activism from 1940 to 1980. The NEH grant will allow 30 teachers from across the country participate in a Summer Institute at Duke University in July 2018.
CRITICAL ORAL HISTORY Black Power The SNCC Legacy Project and the Center for Documentary Studies at Duke University organized a Critical Oral History Conference titled the Emergence of Black Power: 1964-1967. The Black Power Conference took place on July 9 – 11, 2016. Thanks to the work of the SLP, Judy Richardson, Jennifer Lawson, and Kim Johnson, and Dr. Wesley Hogan and Danita Mason-Hogans of the Center for Documentary Studies, the 165-page report was issued in 2017 and is available upon request.
MFDP
The National Endowment for the Humanities (NEH) funded the request from the SNCC Legacy Project and the Center for Documentary Studies at Duke University to conduct a critical oral history conference in 2018. The grant from the NEH was approximately $200K. THE ALGEBRA PROJECT AND THE YOUNG PEOPLE'S PROJECT National Science Foundation (NSF) INCLUDES Conference The SNCC Legacy Project worked to support the Algebra Project and the Young People's Project to organize two INCLUDES conferences. The objective of the INCLUDES conferences was to fulfill the request of the National Science Foundation (NSF) for Conferences to Inform the Design and Success of the Alliances and a National Network for NSF INCLUDES (NSF DCL16-081), the Algebra Project, Young People's Project (YPP) and Southern Initiative Algebra Project (SIAP) convened the first conference from February 17-19, 2017, and the second conference from May 18-21, 2017. Both conferences were held in St. Louis, MO, to examine a critical question: What roles and structures are needed for a minibackbone organization in order to scale a "bottom up" model of social change into an organized, full scale collective impact model?
ARCHIVING MATERIALS The SNCC Legacy Project encouraged SNCC veterans to collect and contribute their documents to libraries that will be able to preserve and digitize them. Some of the SNCC veterans are in collaboration with the John Hope Franklin Research Center for African and African American History and Culture. The director of the Center is John Gartrell who has worked on the SNCC Digital Gateway project. The following is a list of the collections that are presently at the Franklin Research Center located in the David M. Rubenstein Rare Book and Manuscript Library:  Charlie Cobb audio interviews  Miki Conn Howard University Non-violent Action Group (NAG) papers  Connie Curry's papers  The Ivanhoe Donaldson film  Judy Richardson's papers  Larry Rubin's papers  Maria Varela's papers  Florence Tate's papers  Courtland Cox's papers
All of the collections listed above, have been processed and had collection guides published through the Duke University library's collections database and are accessible in the Rubenstein's reading room, with the exception of the Varela papers which are currently in progress. All, or significant sections of the Cobb, Richardson, and Rubin papers have been digitized and are accessible through the Duke Digital Repository. In 2018 February, the library will open an exhibit entitled The Activist Archive, curated by the Franklin Center, that will showcase selections from the Cobb, Conn, Cox, Richardson, Rubin, Sellers, and Varela collections, augmented by other print and manuscript holdings in the Rubenstein Library related to the history of SNCC.
NATIONAL MUSEUM OF AFRICAN AMERICAN HISTORY AND CULTURE (NMAAHC) The SNCC Legacy Project and the National Museum of African American History and Culture (NMAAHC) is in dialogue with members of today's activist community about the collection and preservation of the history they have and are making. The SLP has provided the young activists with a document that outlines the work necessary to document the history. The first meeting of the SLP and today's activists took place on January 19, 2018.
THE BLACK POWER PROJECT
Three years ago Black Power Chronicles (BPC) was created by the SNCC Legacy Project as a community-based, intergenerational, volunteer program. Its mission was to commemorate the 50th Anniversary of the call for Black Power in 1966 by documenting the stories, themes and ideas of the Black Power era as told by those activists and supporters who were a part of the movement.
Although our original vision was to operate a multi-city program, it became evident that we didn't have sufficient resources to fund a national effort. Instead, we focused on Washington, DC where the Black Power movement exerted a major influence on the life and times of the city, nation and around the world.( Please note that our early national outreach in early 2016 succeeded in establishing a Black Power Chronicles effort in Texas.
As a voluntary organization, the program work is done by a network of volunteers, working in a committee structure to capture the history and pass it on to the community. The six Working committees in DC include: Oral History, Black Arts, Chronology Public Programs, Archives and Barry Administration. Committee members are recruited at each monthly public meeting or by word of mouth. Committee meetings are held throughout the month in homes, schools or community institutions. Each committee committed to produce a tangible product about the Black Power era that could be passed on to future generations.
Accomplishments in 2017 include: A. Our organizing effort has succeeded in:  Enlisting the participation, energy ,ideas and time commitment of over 200 volunteers, including Black Power veterans, students, scholars, artists and \ young professionals.  Partnering with 12 communities -based institutions, schools, student organizations, university departments, and cultural organizations to carry out the work.  Securing Contributions of $38,000+ in government, private, and individual contributions that enabled BPC to produce, record, photograph, video tape and interpret the stories and materials of the Black Power movement and share them with audiences of all ages.  Leveraging $43,000 in television studio and technical production assistance from the University of the District of Columbia Cable TV that enabled us to digitally record oral histories, 2017.
Our Program accomplishments include:  Videotaping 24 oral history interviews over the spring summer and fall of 2017 at UDC Cable TV and in several community locations.  Producing a 6-panel full color exhibit on the voices, images and innovations of the Black Power/Black Arts Movement in Washington, DC. The portable exhibit is now touring schools in the Washington, DC area. Producing "ArtSpeaks: It's a Youth Thing!" a one-day indoor and outdoor Children's Black Arts Festival where 250 youngsters and their families were treated to music, dance, crafts-making, storytelling, mural-making provided by over 30 visual and performing artists .  Producing 12 public forums at the African American Civil War Museum and one at WPFW, featuring the history, culture and ideas of the Black Power Era in Washington, DC. Producing an in-depth DC Black Power Timeline consisting of over 100 references and notations on important events, actions, persons, programs or other initiatives that shaped Black Power in DC. The graphics design is now underway and the project will be featured on the BPC website.  Producing a 2-hour radio documentary on WPFW radio commemorating the 51st Anniversary of the Call for Black Power in 1966.  Co-Produced 2, one-hour programs on Black Power on WPFW in November and January, 2018, with Nkenge Ture on her program, "In Our voices".  Developing BPC website which now has a registered domain names and server and a contracted web designer contracted. The content for the website is now being developed. Expected go-live date is April, 2018. Organizing a BPC Archives Committee that is in process of identifying collections of Black Power collections and documents not presently housed in public institutions and establishing the first-ever a Black Power Archives at a leading repository. V. Black Power Chronicles in Texas In January of 2016, a three-city Texas meeting was held in Houston, Texas to introduce the concepts of the Black Power Chronicles to Black Power veterans from Houston, Dallas and San Antonio. Each of the cities held events and programs in 2016 commemorating the call for black Power in 1966. And in 2017, both Houston and San Antonio veterans solidified their contacts with the young social justice and youth activists. The San Antonio group meets monthly and is planning their second poetry slam with young artists in February. They have also organized o workshops to teach young activists how to maintain their safety while expressing their views on police brutality. On ML King Day in San Antonio, 15 young social justice activists marched under the banner of Black Power Chronicles.
SNCC Veterans and today's movement leaders meet at the National Museum of African American History and Culture.
January 19, 2018
The meeting was organized by SLP and the young activists, and hosted by the Museum, to discuss the importance of documenting and archiving their documents and materials so that they can tell their stories from the inside out. The activists have formed a working group to follow up on the very successful meeting. The groups represented include Jobs with Justice, Leaders of a Beautiful Struggle, Black Immigration Network, BYP100, UndocuBlack Network Howard University/ASCAC, and NAACP branches in DC, Brooklyn, NY, and UDC.

The SLP, NMAAHC and hopefully CRMVets have committed to serve on an Advisory Board to help guide the process. SLP Board members Courtland Cox, Charles Cobb, and Sharlene Kranz attended.
SNCC Workshop for DCPS Teachers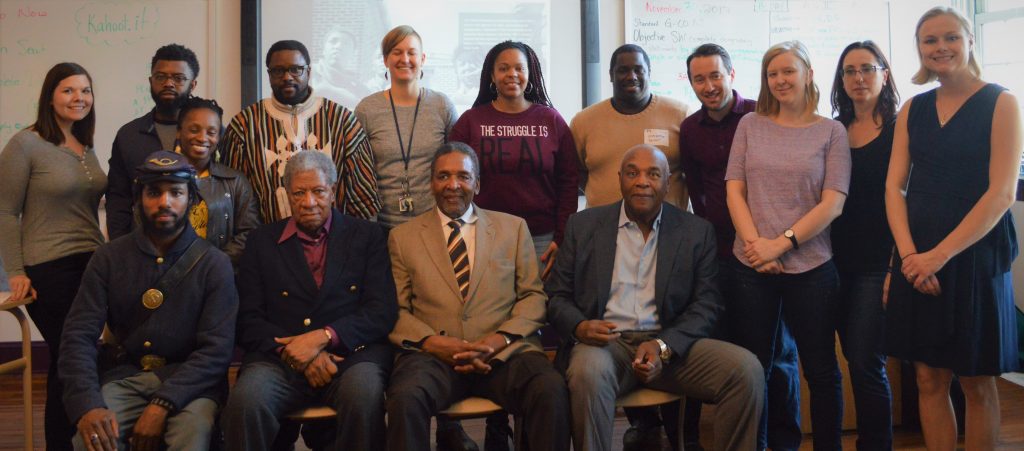 On December 1, 2017, Teaching for Change and the SNCC Legacy Project offered a workshop for 11th grade language arts and social studies teachers on the central role of the Student Nonviolent Coordinating Committee (SNCC) in the Civil Rights Movement. The workshop was hosted by the DCPS Division of Secondary Literacy in the Office of Teaching and Learning for teachers from across the city during a professional development day at Eastern Senior High School.
At the workshop, teachers participated in a new role play by Rethinking Schools editor Adam Sanchez, viewed the SNCC Digital Gateway website, and heard directly from the people who made the history. The special guest SNCC veterans were Courtland Cox, Tim Jenkins, and Frank Smith. Dr. Smith is the founding director of the African American Civil War Museum and Memorial. The museum's education director Dawn Chitty and historic interpreter Marquette Milton (a 2010 Eastern SHS graduate) also attended the session and encouraged teachers to bring their students to the museum.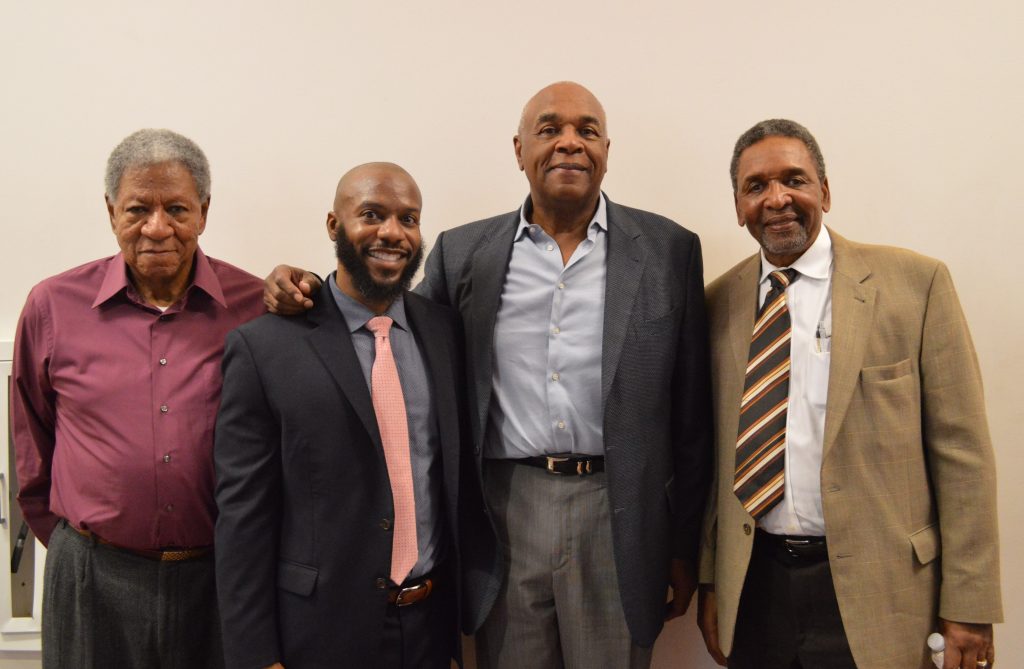 SNCC veterans Tim Jenkins, Courtland, Cox, and Frank Smith with Secondary Literacy director Raymond Cummings (second from left.)
The role play by Sanchez (to be published in the winter issue of Rethinking Schools magazine and eventually posted at the Zinn Education Project website) posits three questions faced by SNCC in the early 1960s, such as whether to engage in direct action or voter registration. In small groups, the teachers grappled with the questions in the role play. Then the veterans went to one group each to reveal what SNCC decided at the time and respond to additional questions. The room was buzzing with conversation. There was also time for a full group Q&A where teachers asked a variety of questions, including about links to contemporary movements and organizations such as the Movement for Black Lives and the NAACP.
The group also viewed the SNCC Digital Gateway website and several participants signed up for an upcoming Teaching for Change dialogue to share ideas for using the website in their classrooms.
Reflections
Here are selected reflections from the teachers:
The SNCC veterans shed light on their organization and discussed present and past conflicts. They offered wonderful insight into movement strategy and tension and successes.
The first hand accounts were very memorable of the inner-workings and debates within SNCC on some of the most pressing issues during Civil Rights Movement.
I gained more insight into the decision process and the efforts that went into the events we remember today.
I appreciated the ability to get first-hand accounts of SNCC members' experiences.
The SNCC Digital Gateway would fit perfectly within the unit on Civil Rights by allowing students to take ownership over finding information.
I plan to use the SNCC role play when I introduce nonviolence as a tactic at the beginning of my Civil Rights Movement unit.
It was a great session.
More trainings like this are needed.
Thank you. It was an amazing experience.
Good news about Charles Sherrod!
Posted November 29, 2017
Shirley Sherrod reports that her husband Charles Sherrod is cancer-free twelve months after surgery for lung cancer!

We join in celebrating this great news!

Charles has participated in RDLN Assemblies and CSW gatherings. A long-time Civil Rights leader, he was Field Secretary for the Student Non-Violent Coordinating Committee (SNCC) in Georgia, has been a local elected official, a prison chaplain, and non-profit leader with Shirley at New Communities and the Southwest Georgia Project for Community Education (SWGA Project). RDLN participants in the UN Commission on the Status of Women and the RDLN Assembly in New Mexico in October have had the chance to see the video Arc of Justice: The Rise, Fall and Rebirth of a Beloved Community, a documentary about New Communities, the land-based community-development project led by the Sherrods that involved the first community land trust in the U.S. on the largest tract of black-owned land in the country, land gained in the sixties, lost in the eighties, and regained with the purchase of a former plantation through a settlement in the minority farmers law suit.

In addition to following medical advice, which included no chemotherapy or radiation, Charles followed the guidance of Natural Solutions for Preventative Healthcare based in Sylvester, Georgia.

Contact information for Charles Sherrod:

c/o Southwest Georgia Project

1216 Dawson Rd Ste 108

Albany, GA 31707

Starry Krueger

Rural Development Leadership Network

P.O. Box 98 Prince St. Station

New York, NY 10012

(212)777-9137/(212)477-0367 (Fax)
Civil rights veteran Dorie Ladner honored in documentaryDeborah Barfield Berry , Gannett Mississippi November 5, 2016
WASHINGTON — Civil rights veterans gathered Thursday night for the screening of a mini-documentary about Hattiesburg native Dorie Ladner and her work registering blacks to vote in Mississippi.
Ladner, an organizer for the Student Nonviolent Coordinating Committee, was among the "foot soldiers'' of the civil rights movement challenging segregation in the Deep South during the turbulent 1960s.
"I wanted to confront the issue head on," Ladner, 74, told the crowd after Thursday's screening. "I just felt like I wanted to get out and do the work."
Civil rights veterans from SNCC and the Congress of Racial Equality (CORE), packed an auditorium at the University of the District of Columbia for the screening of "Well-Behaved Women Don't Make 'Her-Story': The Dorie Ladner Story.''
It was the second showing of the film. The first was at Tougaloo College in Jackson earlier in the week. It will also be shown at the University of Southern Mississippi next February, organizers said.
The 23-minute film was the brainchild of Tougaloo students who met Ladner in 2014 at a conference hosted by the college to commemorate the 50th anniversary of Freedom Summer. Tougaloo College played a key role in the civil rights movement, hosting meetings and staging rallies. Many civil rights workers were Tougaloo students.
Yasmin Gabriel, the film's executive producer, said students wanted to showcase the contribution of Ladner, who went to Tougaloo.
"It became a real intergenerational, symbiotic thing," said Gabriel, also the special assistant to Tougaloo College President Beverly Hogan Wade. "Dorie Ladner is the kind of person who is selfless."
October 6, 2017
SLP Statement on the 100th Anniversary of Mrs. Hamer's birth:
Fannie Lou Hamer's life and contribution to the Freedom Movement—both in Mississippi as well as throughout the South and nation—is of course much larger than SNCC. But we veterans of that organization claim a special relationship with her. First, and it is the only possible starting point, she loved us and we loved her. There is hardly room here to explore and develop in detail the why of this basic fact, but she said once that we were the first group of people to ever ask her what she thought, and who listened to what she thought. For our part, on the first day our relationship with her began— August 31, 1962—when we stood with her and 17 other men and women at the Sunflower County courthouse in Indianola, she manifested a courage that taught us that the real force for change would come from ordinary people finding their voices and daring to take action even at the risk of their lives. Mrs. Hamer became SNCC's oldest field secretary. Her leadership role in COFO and the Mississippi Freedom Democratic Party (MFDP) not only challenged white supremacy, but pointed a way out of no way to Black people. And for all of the problems than remain in Black life—indeed, in American life—we live better because she raised her voice. As for the SNCC part of her continuing Movement life, she kept us on track. It was not difficult for a group of young people like we were then, to sometimes stumble off course; she kept us focused on doing what was right. She commanded our respect as well as our love. Mrs. Hamer passed away far too early. We need not retell that story here. But she only passed away from this earth. She remains here with us in our hearts, minds, and soul.
LISTEN: Civil Rights Leader And Son Talk Activism Then And Now
On this month's show we talk with the keynote speakers at the
Black Cultural Conference
, which takes place Sept. 21-23, 2017 at the University of New Mexico.
His son,
Bakari Sellers
, is an attorney and former state lawmaker who's a frequent commentator on CNN.
September 20, 2017
In honor of Mrs. Hamer's upcoming 100th birthday on October 6, 2017, please SAVE THE DATE for the upcoming documentary, which will premiere on THURSDAY, OCTOBER 5, 2017 @ 7pm, CST.
A message from Courtland Cox:
Bob Moses and I had a phone conversation with Joshua Inwood, one of the Principal Investigators at Pennsylvania State University, for a Geospatial Information Project. The project is funded by the National Science Foundation. We thought the project had possibilities and we asked that he submit a proposal to the SNCC Legacy Project so that we might consider if and how we might want to participate. He agreed and will send a document to the SLP in the next week to ten days.
What is geospatial analysis? Geospatial analysis is the gathering, display, and manipulation of imagery, GPS, satellite photography and historical data, described explicitly in terms of geographic coordinates or implicitly, in terms of a street address, postal code, or forest stand identifier as they are applied to geographic models.
Here is an abstract of the project:
ABSTRACT

This project will examine how Civil Rights Movement leaders and workers used geospatial data and techniques to calculate, map, and analyze the spatial and social dimensions of segregation and discrimination in the US South during the 1960s freedom struggle. At the center of this geospatial labor was the Student-NonViolent Coordinating Committee (SNCC), which generated a series of detailed reports and other products that informed civil rights projects but which have been largely neglected by social scientists. From their field-based operations in Deep Southern small towns and rural areas, SNCC workers strategically compiled, disseminated and interpreted spatial and social information for the purposes of documenting and challenging the normative power of white supremacy and racial inequality. Understanding how Civil Rights organizations engaged in this "Geospatial Intelligence" (GI) advances an understanding of the potential of geographical data collection, application, and analysis to be utilized for the purposes of non-elite activism and social change. This research project contributes to Geographic knowledge and has the potential to impact Geographic curriculum and public thought through its plan of publication and innovative outreach. Specifically, the investigators will distribute research findings to a broad collection of community actors, including through the Tennessee Geographic Alliance and its partners within the state alliance movement and the National Council for Social Studies. They will create education materials for both the broader public and to facilitate classroom teaching and learning about the role of space and place in challenging segregation and discrimination during the Civil Rights Movement. In addition, findings of the research will be disseminated via the University of Tennessee "Pipeline Program", which offers an opportunity to engage with Historically Black Colleges and Universities (HBCUs) and to recruit minority students for further graduate education.

This research project relies on archival work at several Civil Rights related collections across the United States as well as a series of open-ended interviews with surviving members of SNCC familiar with the generation and implementation of geospatial data gathering and analysis techniques. Critical race theory and methodology and discourse analysis will be used to investigate the following questions: 1) How and in what ways and political contexts did civil rights workers employ mapping and geographical data collection and analysis strategies to identify patterns of racial inequality and targets for protest? 2) How did Civil Rights workers use or operationalize their Geospatial Intelligence methods and analytical products to plan and execute major civil rights projects and how do those products expand our definition and understanding of Black Geographies? 3) How do everyday forms of Geospatial Intelligence used by Civil Rights workers problematize and expand contemporary understandings of GI that strongly associate Geospatial Intelligence with defense and national security concerns? While the focal point of academic work for over a decade, GI-related research confines the craft to military-industrial applications. SNCC's use of geographical data and GI practice expands this definition and context as well as understanding of the inner workings of African American politics and the value of a Black Geographies perspective within a study of the Civil Rights Movement.
June 26, 2017
Bench dedicated to the memory of Julian Bond
D.C. Mayor Muriel Bowser today dedicated a bench on Connecticut Avenue NW to the memory of local resident Julian Bond. Bond was SLP Vice- Chair, former Chairman of the NAACP, a professor of the University of Virginia and American University, and a founding member of SNCC. He edited for many years SNCC's newspaper The Student Voice, and later served 20 years in the Georgia State Legislature.
SLP Chair Courtland Cox appreciates the bench.
DC Mayor Muriel Bowser presents the proclamation dedicating the bench to Julian's wife Pam Horowitz.
SNCC Veterans on the bench! Left to right: Terri Shaw, Joyce Ladner, Jen Lawson, Joan Trumpauer, Tim Jenkins, Sharlene Kranz, Pam Horowitz, Heather Booth, Dorie Ladner with Grandson, Jane Silver, Courtland Cox.
June 22, 2017
Joan Browning writes to notify us of the passing of Sheila Michaels, an early SNCC staffer. " Dorie and I met her in Jackson in 1961 and she was at the 50th Mississippi Summer Project reunion at Tougaloo. Sheila was a stalwart with CORE and SNCC in the early days," writes Joyce Ladner.
June 22, 2017
Letter from John Churchville:
I'm pleased to announce the publication of my new book--Envisioning the African/Edenic Future: The Path to Our Self-Actualization in Freedom.

(John Churchville is a SNCC veteran of Southwest Georgia and Mississippi).
June 18, 2017
Letter from Marilyn Lowen:
Dear SNCC Sisters and Brothers,
My youngest son Khaiim Kelly attended the 1988 SNCC conference in Hartford, CT.
He had just turned 10 that week.
Nearly 30 years later he is teaching at Trinity and sent me this link.
http://digitalrepositoryu.trincoll.edu/sncc/
While it is fresh in my mind, I want to share this link with folk on the program.
It contains the complete program of the conference and good quality vimeo recordings of the panels. Howard Zinn, James Forman, Julian Bond, June Johnson, Lawrence Guyot, Bob Mants, Silas and Martha Norman, Jack Chatfield and others are speakers.
The people listed below appear on the program on this link.
Aneb Kgositsile (Gloria Larry House)
Dr. Bernice Reagon
Bob Zellner
Casey Hayden
Cecil Gray (Victoria Gray Adams' son)
Cleve Sellers
Diane Nash
Ekweume Michael Thelwell
Hollis Watkins
Jean Wheeler Smith Young
Julie Guyot (Guyot's daughter)
Joyce Ladner
Yours in a Constant Struggle,
Marilyn Lowen
Julie Guyot (Guyot's daughter)
New York Times article about Fannie Lou Hamer and food sovereignty:
https://www.nytimes.com/2017/05/06/opinion/sunday/the-hidden-radicalism-of-southern-food.html?smid=fb-share
May 7, 2017
The Hidden History of the SNCC Research Department:
https://news.littlesis.org/2017/05/02/the-hidden-history-of-the-sncc-research-department/
April 24, 2017
"Come Let Us Build a New World Together": The SNCC Digital Gateway
By Lauren Tilton
It can be challenging to teach about the civil rights movement. For many reasons, from time constraints to lack of access to archives, the liberation struggle is often framed through its most prominent leader, Martin Luther King Jr. Now, thanks to a partnership between Duke University and the SNCC Legacy Project, an organization comprised of SNCC participants, teachers have access to the SNCC Digital Gateway. The digital exhibition and archive uses essays, documentary sources, and visualizations to dive deep into the workings of the youth-led Student Nonviolent Coordinating Committee (SNCC). Throughout the 1960s and 70s, SNCC empowered black communities in the Deep South through grassroots organizing and planning actions such as freedom schools, sit-ins, and voting registration drives. The SNCC Digital Gateway offers students the opportunity to explore grassroots histories of the Civil Rights Movement while broadening their understanding of who accomplished social change and how.
The National Museum of American History in DC displays the counter segment where four African American college students staged a sit-in at a "whites only" counter at a store in Greensboro, NC in 1960. UserFan/Wikimedia Commons/CC BY-SA 3.0
The site offers users seven gateways into SNCC's activism: About, History, Timeline, People, Inside SNCC, Map, and Resources. Because of the depth of the content, I'd recommend providing students with some initial guidance on how to engage with the project. While it might be tempting to go straight to the History gateway, I tell students to start with About and read "The Story of SNCC," which provides a brief overview of the organization and how it fits into a constellation of organizations fighting for freedom.
Next, I encourage them to read the History gateway which focuses on major SNCC events from 1943 to 1969, including the sit-in at Greensboro and the Freedom Rides. The timeline helps students keep events organized and see them in a broader civil rights context while noticing organizational changes within the SNCC. The design suggests a static timeline, but it is much richer than it appears. For example, students can click on "1965–1969 Black Power Takes Power: Political & Economic Organizing" and learn about how the SNCC organized around issues of economic justice and came to support the anti-Vietnam War movement.
From here, I recommend letting students explore on their own. For example, the Timeline links to pages including expository essays and documents. Clicking on "SNCC makes contact in Lowndes County" leads to a brief and well-researched essay about the efforts of Stokely Carmichael and fellow SNCC organizer Bob Mants in the infamous Georgia county that typified the violence of white supremacy. The right side of the page includes primary documents such as an article about SNCC's organizing in The Movement and a 1988 audiovisual interview with Mants where he reflects back on the events that took place in 1965. The materials include links to the institutional and private archives that provided the materials. Along with introducing students to primary documents, the project thus encourages students to explore the archives. It also shows students the importance of giving credit through citations.
North Carolina Student Nonviolent Coordinating Committee members, who helped organize and inspire sit-ins across the South, meet at the Tottle House lunch counter in Atlanta in 1960. U.S. Embassy The Hague/Flickr/CC BY-ND 2.0
Other gateways include People, Inside SNCC, Perspectives, and Map. People brings attention to lesser-known activists and organizers like Martha Prescod (Norman). The page on Prescod, for example, helps illuminate the complexities of organizing through a short essay about her work as well as primary source materials including an oral and audiovisual interview. One possible assignment is to ask each student to select an interview of a woman and assess how race, gender, and sexuality constrained the revolutionary possibilities of SNCC.
Inside SNCC offers essays with documentary materials that address major themes such as governance, culture, political policy, and coalition building. This is particularly useful for helping students understand the organization's structure as well as the central role of the arts through projects such as Freedom Singing and Freedom Southern Theatre. The Perspectives gateway has essays written by activists who reflect in the first person on their experiences. It also includes a rich collection of audio and video interviews with activists about Black Power. The latter in particular allows students to see activists reflecting back on SNCC, helping students see how historical actors framed their aims and accomplishments in the past and the present. The interviews can also help students learn how to assess oral histories. Teachers can ask students to compare how a person reflecting on their experience in 2016, like Jennifer Lawson, might frame their story and understanding of SNCC back in the 1960s. This might be of particular interest to those teaching about historical and cultural memory.
The Map section visualizes SNCC's presence geographically. It allows students to immediately see a cluster of activities in Mississippi, where the organization concentrated its efforts. Clicking on a place brings the user to a page that lists the people and events in that location. Each name links to the People section, while an event brings users back to the Timeline. In fact, each of these gateways include in-text links that move the user across the site. The ability to click and move to another section of the site helps create a nonlinear narrative that encourages discovery and curiosity. A functionality ideal for teaching, students can move through the site creating connections across events, people, perspectives, and themes.
For instructors looking to link the 1960s to today, the Resources gateway is a great place to turn. Our recent presidential election has made clear that the road to ending racial inequality is anything but straight, and the struggle continues as exemplified by the Black Lives Matter movement. I have found students eager to discuss the connections they are seeing between the past and today, yet I want them to do so in a way that isn't reduced to narratives of progress or claims that nothing has changed. The interviews with SNCC activists reflecting on their work in the intervening 40 years show that organizing for change is a continual and uneven struggle. Because the interviews are long, I'd recommend selecting short clips of three to four minutes and assigning them. Students can then discuss how the SNCC informed their later activism and also its continuing impact.
Whether interested in understanding SNCC in its moment or its legacies, the gateways build on each other to explain the intricacies of the organization and its role in the broader freedom struggle. One could easily use the project to focus several weeks of a course on SNCC or simply mine it for additional materials for a lecture. The hours of audio and visual material woven throughout the site are prime materials for close readings. The SNCC Gateway is, thus, an incredible resource for teachers and students alike who are looking to immerse themselves in the world of SNCC while learning about the broader grassroots organizing during the Civil Rights Movement.
Lauren Tilton is assistant professor of digital humanities and research fellow at University of Richmond's Digital Scholarship Lab. She directs Photogrammar, a platform for visualizing photography, and is co-principal investigator of Participatory Media, a digital project exploring participatory community media from the 1960s. She is co-author of Humanities Data in R.
April 18, 2017​
SNCC Veteran Judy Richardson and James Forman, Jr. celebrate the release of James' new book "Locking Up Our Own" in Washington, DC.
A discussion about Lowndes County at Duke U on April 10, 2017
March 2, 2017
Why we can be hopeful.
SNCC veteran and chairperson of the SNCC Legacy Project
Courtland Cox
shared with Teaching for Change why we can be hopeful in these political times. He noted, "A divided America is a good thing." Listen to this seven minute video clip to hear why.
https://youtu.be/Qq_i_KRA4ns
Former Ashfield Selectman to be honored for work with Freedom Singers
Bill Perlman of Ashfield. Recorder/Paul Franz
By RICHIE DAVIS, Recorder Staff, Greenfield, Massachusetts
Tuesday, February 28, 2017
ASHFIELD — In former Ashfield Selectman Bill Perlman's distant past are his days as a member of the legendary Freedom Singers.
At 18, he was asked by the Student Nonviolent Coordinating Committee to become part of the group that lent their voices to the Civil Rights movement at rallies, in concerts and fundraisers throughout the South and beyond.
On Saturday, more than 50 years after the "Bloody Sunday" attack by armed police officers on demonstrators who tried to march on the Alabama state capital to win voting rights, Perlman will receive a Freedom Flame Award.
"A lot people have the view that the Civil Rights movement was in the 1960s, and that was it, that it solved all the problems and went away," Perlman said in 2015, when he brought The Freedom Singers to Ashfield for a concert to mark the sesquicentennial of the Selma-to-Montgomery March.
"But the Civil Rights movement started in 1619," he said, "when the first slaves came, and not only is it still going on, it's also still needed."
The 70-year-old retired electrical engineer, who was a longtime Franklin Regional Council of Governments Executive Committee member, was invited to take part in the 52nd annual Bridge Crossing Jubilee in Selma this weekend to receive the award in honor of his activism as part of the civil rights and voting rights movements. He is the youngest member of the otherwise all-black group that formed in 1962.
The celebration comes as voting rights are once again under attack. On Monday, President Donald Trump's administration said the federal government no longer plans to challenge a strict voter ID law in Texas.
The Justice Department informed plaintiffs in the case that it will be filing documents to formally drop its opposition to the Texas law, in what the Associated Press called "a stark reversal under new Attorney General Jeff Sessions from the Obama White House, which joined a lawsuit against Texas in 2013."
A federal appeals court last year ruled that the Texas law discriminated against minorities and the poor, and it ordered changes ahead of the November election.
Faya Rose Toure, executive director of Selma Jubilee, wrote to Perlman, "People who come often say the Jubilee is a pilgrimage, as we host people from all over the country and the world to commemorate and celebrate these historical events, as well as to inspire and educate those who attend regarding the pressing issues of the present related to voting rights, civil rights, and human rights."
Toure added, "Jubilee also serves as an opportunity for all those who value these rights to come together as a community of people for four days of communion and serious discussions, speakers and educational workshops, renewal of old friendships, recognition of those individuals who have made a difference, and to enjoy good food, music, art and entertainment."
Previous Freedom Flame Award recipients include Harry Belafonte, Dick Gregory, Jesse Jackson, Rosa Parks, Andrew Young and many others.
When James Forman, executive secretary of the Student Nonviolent Coordinating Committee, invited Perlman to be one of the Freedom Singers after hearing him as a last-minute substitute playing his Martin 00-21 guitar at a 1965 fundraising event, the teen had recently dropped out after a month of community college in Brooklyn.
Each member was paid a $10 weekly wage as SNCC staffers, and the group's main role was to raise money for the organization, singing, "Which Side Are You On," "We Shall Overcome" and other songs on Northern college campuses such as Yale, Brandeis and Mount Holyoke. The group also performed at house parties as well as in large concert halls in Boston, New York, Chicago and elsewhere around the North, playing a 28-day tour of eastern Canada.
In rallies in Southern churches, the singers tried to boost morale and bring people together.
Unlike song leaders, who specifically led rallies and marches, Perlman recalled, "The Freedom Singers were performers — entertainers. We came up with interesting, complex harmonies. That was very different than getting hundreds of people singing."
February 17, 2017
Interview with Bob Moses in the Southern Illinois University newspaper
http://www.theintelligencer.com/news/article/Remembering-civil-right-fighter-Bob-Moses-10940669.php
February 7, 2017 The Chronicle at Duke University. Article by Bre Bradham.
SNCC legacy project brings together former members of the civil rights movement
In the early 1960s, the Student Nonviolent Coordinating Committee organized youth across the South in the fight for desegregation. On Saturday night at North Carolina Central University, six veterans of the movement came together in Durham to recount how they became involved with the movement.
Although the five activists—Faith Holsaert, Shirley Sherrod, Larry Rubin, Annette White and Janie Rambeau—came from a variety of backgrounds, their stories intertwined through their involvement with SNCC and their experiences in Albany, Georgia, the site of one of the toughest civil rights battles.
"[Albany was] one of the most important of the southern movements of the 1960s, and arguably the most ignored," said Charlie Cobb, the event's facilitator and a board member for the SNCC Legacy Project who worked with SNCC in the Mississippi Delta. "All the people seated at this table have been important to the movement that emerged in southwest Georgia."
The panel's discussion was organized through a partnership between the SNCC Legacy Project, Duke University Libraries and the Center for Documentary Studies. It is the first of four sessions planned for 2017. Each discussion will focus on a particular topic—from Saturday night's panel on southwestern Georgia to a future talk on SNCC's international connections.
Karlyn Forner, the SNCC digital gateway project manager for Duke Libraries, explained that the former SNCC members' discussions will be included on a website that aims to share the organization's history.
"It's trying to tell the story of the movement from the inside-out. Part of the premise is that the movement's history has been told by historians and scholars, but not necessarily the people themselves who created the history," Forner said. "So it's really about trying to tell the history of the movement that the participants recognize and know."
The history of SNCC began not far from NCCU on the campus of Shaw University in Raleigh. All of the veterans, however, had their own stories to share about how they became involved with the movement.
Janie Rambeau, a leader of the movement at Albany State College who was expelled because of her involvement in the movement, said that she cannot recall exactly when she became involved because she always considered herself part of it.
Rambeau grew up hearing her parents' stories about discrimination and activism but began to see it more "outright" for herself when she was in high school—water fountains were segregated and labeled with signs, and the "colored" bathroom was dirtier. She was arrested while singing "We Shall Overcome" on a rainy December morning.
Annette White, who lost her title of Miss Albany State College due to protesting, similarly cited her early beginnings in the movement. She said that she was delivered by the only black, female doctor in Southwest Georgia in August 1939.
"That's when it started," she said. "I was in a totally segregated city on the south side of town, where black people lived. Everything that went on in that city affected me in some way. As I grew, my parents explained what being in a segregated city meant. My father wanted me to know what was out there so I could survive in that type of society."
Faith Holsaert came to Albany from New York City where she first became involved in SNCC. When SNCC organizers approached her about going down South in the summer of 1962, she initially said no but then tragic events in Georgia changed her mind.
"At the end of that summer three churches were burned in southwest Georgia," she said. "For whatever reason, that really lit my fuse."
Larry Rubin, who is a Jewish veteran of the movement along with Holsaert, said that unlike other white northerners who ventured South, he was not shocked that people trying to register to vote were beaten up and fire-hosed.
"I know this is hard to believe," he said with sarcasm, "but at that time this country was run by white, racist, white-supremacists. The reason it was is because a lot of their constituents were not able to exercise their right to vote."
Rubin cited his Jewish heritage as one of the reasons that he felt he "had no choice" but to become part of the movement, leading him to move to southwest Georgia to join the efforts.
"I learned that part of my job was to be white in this movement," he said. "To show people that blacks and whites can work together and that whites do not have to be in charge."
Shirley Sherrod was born on a farm in "bad Baker County." Her father died after being shot by a neighboring white farmer following a dispute over cows when she was 17. She said the night he died she made the decision to stay in the South and devote her life to making a difference. Sherrod joined SNCC a few years later.
Sheerod stressed that despite the passage of time, the need for activism has not ended.
"I'm still in that mode. I can't separate the work after 52 years because it didn't end," she said. "The need for it is greater now, or almost as great now, as it was it back then. We need young people."
A Remembrance from Bernice Johnson Reagon
Thank you Connie. We live today in a century our stances helped shape. I was born in Dougherty County Georgia, joined the youth council of the NAACP, then was a student leader of the Albany Movement. Fighting racial segregation was key to my formation as an activist voice, and in this century, I continue to be grateful that I lived to join and participate in that struggle.
Bernice Johnson Reagon
Remembering February 1, 1960
On Feb 1, 2017 Connie Curry wrote:
Dear friends. Fifty-seven years ago today, I was driving to Atlanta to start a new job as director of the NSA Southern Student Humans Relation Project. I had stopped in Greensboro, N.C. (my hometown) to pick up some things at my sister's house, was driving down West Market St. had the radio on and heard on the news--"Four students from A & T College have just been arrested at our downtown Woolworth's for sitting at the lunch counter and asking to be served......." "what is going on, I thought" but picked up my things and drove to Atlanta. I had been in Greensboro unintentionally at the same moments that began the student movement, that led to over 50,000 students in the south demonstrating at lunch counters, etc. by June of that year. Well, you know the rest of the story, including my meeting Ella Baker in Atlanta, then Julian Bond, Charles McDew and many others and becoming a member of the SNCC Committee--first white woman. The love and caring that we felt back in those early days lingers forever. Was just listening to the news and while lots of things are mentioned about Feb. lst meanings--nothing about us. Well, that is their problem. "We'll walk hand in hand. Black and White together. The truth shall make us free and o and on." Much love, Connie

Challenging Ourselves: Martin Luther King, the Movement, and Its Lessons for Today
This is a talk delivered by SNCC veteran Charles E. Cobb Jr. on Sunday, January 15, 2017 at the People's Congregational Church in Washington, D.C. on the occassion of the Dr. Martin Luther King holiday.
By Charles E. Cobb
My thanks to Rev. Hopson, the congregation of Peoples church, and especially the church's Board of Christian Social Action for inviting me here. I grew up in the Congregational church. My father Rev. Charles E. Cobb pastored St. John's Congregational Church in Springfield Massachusetts, and later co-founded the UCC's Commission for Racial Justice and became its first executive director. So I feel like I have come back home and welcome the opportunity to speak to you. Thank you.
Julian Bond in Mississippi, 1963. Photo by Harvey Richards.
My friend and former co-worker in the movement Julian Bond, who is greatly missed, used to say that the primary misconception in the public's perception of the southern civil rights movement can be boiled down to three short sentences. "Rosa sat down. Martin stood up. And then the white folks saw the light and saved the day."
In the minds of many, the movement is thought of as mass protest in public spaces led by charismatic leaders. That is only partly true, however. The organizing tradition—a very old tradition, with roots in slave rebellions—better describes the movement. And, I want to push this forward as what is most relevant for continuing struggle in the 21st century as well as properly understanding movement history. And that does not mean that mass protest—those of yesteryear and those now, contradicts this tradition.
My approach to discussing the movement this morning is from the bottom up, or put another way, from the inside out since I was very much involved with the movement as a field secretary for the Student Nonviolent Coordinating Committee, or SNCC. We were an organization of grassroots organizers.
First, as much as the movement challenged segregation, racial discrimination and white supremacy, fundamental to real understanding of the movement are the challenges black people made to one another within the black community. This underappreciated dimension of the movement is as important today as it was more than half a century ago. Maybe even more important now, given the kind of violence we are witnessing in Chicago and other cities.
Martin Luther King was born today in 1929; we are celebrating his work. So before going further, let me tell you a story about Reverend King that is relevant to the point I have just made.
Few people give enough thought to the fact that before he achieved national and international renown as a civil rights leader, Martin Luther King was a young local minister in Montgomery, Alabama. How he emerged is important to understanding the emergence of the bus boycott there, which was driven by local people at the grassroots.
After Rosa Parks's arrest, black Montgomery organized a highly successful one-day bus boycott. I am tempted here to discuss Mrs. Parks at length. She was much more than a weary dressmaker seeking a place to sit on the bus. As she put it, her life was "a history of being rebellious."
E.D. Nixon and Rosa Parks in Montgomery on March 19, 1956. AP/Gene Herrick
At the end of the day, Montgomery's black leadership—many of them ministers—met in Martin Luther King's church to discuss continuing the boycott until the city committed to desegregation of bus seating. Most who spoke, expressed various degrees of reluctance and fear about doing this. Finally, the preeminent black leader of Montgomery—E.D. Nixon, one of A. Phillip Randolph's union men and the former head of Alabama's NAACP—rose and spoke. As the story came to me from Johnnie Carr, 95-years old when she was telling it, and part of a core group of women who had been working with Rosa Parks since the 1940s, Nixon basically accused the gathering of cowardice: "You preachers been eating these women's fried chicken long enough without doing anything for them." It was women, after all, riding buses across town into the white community to jobs as housekeepers and cooks and nursemaids who suffered regular humiliation traveling on public transportation. "Now," Mr. Nixon continued, "it's time to get up off your butts and do something for them!" It was then that a 26-year-old Martin Luther King stood up. Do we even think of Martin Luther King as a 26-year-old? "I am not a coward!" He said. The embarrassed gathering agreed to continue the boycott and Rev. King was elected head of the organization they formed at that meeting to continue the boycott—The Montgomery Improvement Association.
The way to understand this moment, I hope you see, is by understanding the kind of challenges black people were making to one another across the south. This is what drove struggle and change. Much of this still remains invisible. And broadening this with an almost equally invisible related point: The Movement thrust forward leaders, not the other way around.
However, as important as he was, I am not here this morning to discuss Martin Luther King. I intend to concentrate instead on Mississippi and its lessons, particularly as they apply to these times. That is the state where I worked as a SNCC field secretary from 1962 until 1967, and the state I know the best.
The vicious racial oppression that once so completely defined this state establishes a special kind of clarity for us this morning. To illustrate this, in a moment I will read to you a description of an encounter reported by another friend, and comrade, and hero from the days of Mississippi's mid-20th century freedom struggle. Sam Block is his name. He, like almost everyone who formed the backbone of the southern Movement, is invisible and he died far too young from both the physical and psychological traumas of that struggle.
Rally for the Freedom Vote, Hinds County, 1963. Front row from left: NAACP leader Aaron Henry, SNCC organizers Sam Block and Willie Peacock, unidentified. Back row, Rev. Ed King with bandage on face. From crmvet.org
The words will come from a 1962 field report Sam wrote describing the early days of his efforts to organize around voter registration in the Mississippi Delta. Sam was the first of us—meaning the first of us who were young—18, 19, 20, 21 22 and 23-years-old—to organize for voting rights in the Mississippi Delta—cotton plantation country. The Delta was a vicious place where most black life had been reduced to plantation serfdom following the dismemberment of Reconstruction. The Delta was where the White Citizens Council was born. Sam began working in a town where the White Citizens Council was particularly powerful—Greenwood—county seat of Leflore County. Greenwood and the rest of the county, like most other Delta towns and counties, was two thirds black. When Sam arrived, there were more than 13,000 voting-age blacks in Leflore County, but only about 200 had succeeded in being registered. Listen to Sam's report. The N-word, as we now say in polite company, is used in it; but it is necessary, I think. However, I apologize in advance for any discomfort its use causes. Here's Sam:
We went up to register and it was the first time visiting the courthouse in Greenwood, Mississippi, and the sheriff came up to me and he asked me, he said, "Nigger where you from?" I told him, "Well I'm a native Mississippian." He said, "Yeh, yeh, I know that, but where you from? I don't know where you from." I said, "Well, around some counties." He said, "Well I know that, I know you ain't from here 'cause I know every nigger and his mammy." I said, "You know all the niggers, do you know any colored people?" He got angry. He spat in my face and he walked away. So he came back and turned around and told me, "I don't want to see you in town any more. The best thing you better do is pack your clothes and get out and don't never come back no more." I said, "Well, sheriff, if you don't want to see me here, I think the best thing for you to do is pack your clothes and leave, get out of town, 'cause I'm here to stay; I came here to do a job and this is my intention. I'm going to do this job…"
Now I think this exchange, which took place on the steps of the Leflore County courthouse, explains everything you need to know about the movement. Sam's words were a promise and a prediction. Along with Sam, those of us in SNCC and CORE especially, dug in and stayed to do the job; were committed to doing the job, and drawing from deep wells of strength in black communities, broke the back of apartheid in Mississippi. But the outcome did not just affect Mississippi; it changed America. The job we did resulted in changing forever the rules of the national Democratic Party and that is what laid the groundwork for the Obama presidency. This is not boast, but history. Basically: In fighting for the right to vote—and winning—the door was opened to the possibility of winning any elected office, even the highest in the land. As the black abolitionist Fredrick Douglass pointed out more than 150 years ago and it's as relevant now as then, "If there is no struggle there is no progress." I stand here in praise of our struggle, and to testify that the violence underlying the Greenwood Sherriff's words reveal the blood-soaked ground in Mississippi and across the American south that has been the price of progress. I stand here to insist that this must never be forgotten, and that there is a debt, a duty—an obligation we have—all of us—to repay this history with continuing struggle.
Approaching this history, there are, of course, some legitimate questions you may want answered in trying to grasp why I think Sam's courthouse encounter with the sheriff was so significant. Who was Sam Block? He was only 22 when this happened; that's kind of young, isn't it? How did he get to Greenwood? What made him stay in defiance of the sheriff's threat? The larger question is: Is there something we can use here today?
So, let's look more closely at Sam. Youth comes immediately to mind in this consideration. As I said, he was just 22-years-old at the time of his confrontation with the sheriff. Largely missing from the narrative about the civil rights movement is that in many instances it was led by young people like Sam. To quote Martin Luther King speaking in support of sit-ins at a February 16, 1960 civil rights rally in Durham, North Carolina: "What is new in your fight is the fact that it was initiated, fed, and sustained by students."
I was a 12th grade high school student when on February 1, 1960 the sit-in movement erupted in Greensboro, North Carolina. Black students there began refusing to leave whites only lunch counters and restaurants. Within two months such protests had spread to 80 southern cities. The student protests in Nashville, Tennessee, Atlanta, Georgia, and other southern cities that year, reached us via television and newspapers—especially black newspapers. And for me and most of my friends, before seeing these sit-ins, civil rights had been something grown-ups did. Now, looking at young people like Diane Nash or John Lewis or Julian Bond—students, my generation—what was coming through to us was that civil rights struggle was something we could do.
We see something similar in the way that protests over the 2012 murder of Trayvon Martin in Sanford Florida have led to an ever-expanding Movement for Black Lives that is led by young people. A whole new set of young leaders has begun to emerge and lay claim to the future they want to live in; launched a fight for their future. As a SNCC veteran, I see a lot of my younger self in this, and applaud it.
Amzie Moore, Mississippi, 1963. Photo by Harvey Richards.
Sam was also one of Amzie Moore's people. That's who sent him, via SNCC to Greenwood. SNCC, which grew out of the sit-in movement had by 1962 evolved into an organization of organizers, working closely and at the grassroots with older veterans of civil rights struggle—many of them local NAACP leaders like Amzie. You won't know his name any more than you knew Sam's, but you need to know some things about Amzie because understanding what he represents is another essential component of any real discussion about the movement.
Amzie Moore was the president of the Cleveland, Mississippi NAACP where Sam had been born and grew up, and had decided that he wanted to tap into and use the young energy he saw in the sit-in students. He admired what the students were doing, but was not interested in organizing sit-ins in his town; he wanted a voter registration campaign. He put that idea on our political plate, challenging our idea that "direct action" only meant sit-ins and picket lines of protest. Amize wanted to see the emergence of black power in the Delta. The black people were there; the registered black voters were not.
As we began working in the Delta, Amzie Moore's home was our central headquarters. His house was an orientation center, a place for breakfast of scrambled eggs or for a spaghetti dinner; it provided telephone connections and was always full of conversation as well as Amzie's sometimes grim, sometimes funny stories of Delta life and earlier civil rights struggle. Floodlights washed his backyard because he was certain that one night Ku Klux Klansmen, or white terrorists of some sort, would attack his home. Often Amzie, who had fought the Nazis overseas after all, sat in the bay window of his living room with rifles and pistols, waiting to repel an attack he was certain would come (which may be why it never came).
Our relationship with Amzie puts into perspective yet another important dimension of the movement: The convergence of young people—like Sam…or myself—with older people like Amzie—he was 49- years-old when we met him. I had just turned nineteen in 1962. They were willing to share their experiences and open up to us, networks that they had built over many years, even decades, of struggle.
Ella Baker (center) at the Highlander Center.
Ella Baker introduced us to Amzie. She was 59-years-old. You cannot talk of 20th century civil rights struggle without discussing this remarkable woman. And let me also say as an aside here, although it should really be central to any discussion, that you cannot talk about 20th century civil rights struggle without discussing the leadership of women. Ms. Baker was the NAACP's Director of Southern Branches in the 1940s, was the person who organized Martin Luther King's Southern Christian Leadership Conference (SCLC) after the 1955-56 Montgomery, Alabama bus boycott. She immediately recognized the significance and potential of the emerging student sit-in movement in 1960 and negotiated 800 dollars from Rev. King to bring student protest leaders together at her alma mater, Shaw College in Raleigh, North Carolina. Out of this meeting came SNCC. As much as anyone, and more than most, her hands and her brains shaped the theory and methods of community organizing which defines the modern civil rights movement. Her main lesson: Organize from the bottom up. "Strong people don't need strong leaders."
Although a number of historical forces mark the era of modern civil rights struggle, in my opinion, the convergence of some very particular and very critical forces laid the foundation for the modern mid-20th century struggle from which there would be no turning back: the commitment to democracy and human rights embedded in the rhetoric of World War Two's fight against fascism, the accelerating struggles for decolonization in Africa and Asia, post war economic and educational opportunity in the United States with so much of the world in rubble, and finally: the1954 supreme court decision in Brown v. Board of Education which began the process of dismantling the legal framework which underwrote U.S. apartheid. Importantly, that decision engendered hope, one of the indispensable ingredients for resistance.
Fannie Lou Hamer picketing on Freedom Day, 1964, in Hattiesburg, Mississippi.
What uniquely marks the era, though, is that in large numbers, people who were usually spoken for by others, began to speak for themselves, and not only that, spoke for themselves in such a way that they could not be ignored. This is very important so let me restate it in a slightly different way: Ordinary people who were usually spoken for by sympathetic advocates, or of, by hostile white supremacists, began speaking for themselves saying "this is what we demand; this is the kind of society in which we wish to live." Montgomery, Alabama's mid-1950s bus boycott and the now almost completely forgotten student struggle in 1951 Farmville, Virginia may be the post-World War II events that best represent this. I also think the person who probably best symbolizes this is Fannie Lou Hamer of Mississippi. She was a sharecropper and timekeeper on a Delta cotton plantation who became not only a leader of Mississippi's 1960s movement, but a great national voice for civil rights. In any case, maids, sharecroppers, day workers, cooks, janitors, farmers, factory workers, beauticians and barbers, as I said, ordinary people who were usually spoken for or of—these voices began to be heard, or at least could no longer be ignored in the mid 20th century. And, through organization and direct action they changed a way of life.
It is worth noting as we seem to have entered an era where civil liberties are being eroded in the name of national security that the civil rights movement forced the issue of civil liberties. In 1963 Bernard Lafayette, one of the leaders of the Nashville Student Movement organized the first civil rights mass meeting in Selma, Alabama. When Sheriff Jim Clark burst in with his deputies and disrupted the meeting he was armed with a warrant from the circuit judge empowering him to prevent "insurrection." And in the months leading up to the 1964 Mississippi Summer Project approached, the state legislature passed a "criminal syndicalism," law. It empowered local authorities to redefine organized civil rights struggle (or labor union organizing) as "terrorism" with 10 years of imprisonment possible for any person who, "By word of mouth or written words or personal conduct advocates, instigates, suggests, teaches or aids and abets criminal syndicalism or the duty, necessity, propriety or expediency of committing crime, criminal syndicalism, sabotage, violence or any other unlawful method of terrorism as a means of accomplishing or effecting a change in agricultural or industrial ownership or control or effecting any political or social change…." Whew! After the first group of people tried to register to vote in Sunflower County, Mississippi, white nightriders shot up the black community. In Ruleville, a tiny Delta town, two girls were wounded. I was arrested for the shooting, by the mayor, who said I had done it to gain publicity for a failing movement. I was let go the next morning. If also charged and convicted as a criminal syndicalist I could have had 10 years in jail added to whatever sentence I was given for the shooting.
Looking across today's political landscape I cannot say that such oppressive legislation is no longer possible. Fear often leads to tyranny.
In the United States today, with civil rights and civil liberties so vulnerable, the most important lesson of the civil rights movement is still relevant. You have to make a demand for the kind of society in which you want to live—especially if you want to live in a free society. As we used to say, "Freedom is not free."
And this brings us to the Movement for Black Lives today. Alicia Garza, a co-founder of Black Lives Matter wrote a year or so ago, "When we say Black Lives Matter, we are talking about the ways in which Black people are deprived of our basic human rights and dignity. It is an acknowledgement [that] Black poverty and genocide is state violence. It is an acknowledgment that 1 million Black people are locked in cages in this country–one half of all people in prisons or jails–is an act of state violence. It is an acknowledgment that Black women continue to bear the burden of a relentless assault on our children and our families and that assault is an act of state violence." Ms. Garza's framing mirrors the concerns with systemic oppression that we held while fighting for change in the South.
I, for one, think their protests have been powerful and effective. Now they face the question of organizing beyond protest, a question we had to face too. A question we also have to face is how to support this young movement. We might begin by talking to them seriously about their ideas. I believe the earlier movement history I have offered here can be of some use to the young people working to maintain our ongoing struggle today. Obviously, while not everything from our era will be useful for 21st century activists, there is a core reality that strong movements are built by developing inclusive relationships capable of knitting together strategies formed as a result of listening to ordinary people's experiences and ideas for change. More than any single thing this is what the movement did in order to engage in effective struggle. I think doing this in the black urban communities that now form the heart of black America is much more difficult than what we were faced with in the rural south of the 1960s, but the basic principle of digging in and finding a language that works remains fundamental. This is a conversation we do not have time for this morning. But I do know that this discussion has begun among some of the groups that form the Movement for Black Lives. So, as the Mozambicans used to say in their struggle for independence from Portugal—a Luta Continua, the struggle continues.
Finally, I ask you to consider this which can serve as a theme for today's struggle as much as it served as the founding principles of the United States in 1787:
We the People of the United States, in Order to form a more perfect Union, establish Justice, insure domestic Tranquility, provide for the common defence, promote the general Welfare, and secure the Blessings of Liberty to ourselves and our Posterity, do ordain and establish this Constitution for the United States of America.
For all the contradictions found throughout U.S. history this is the core, though still unrealized, ideal of the country. But do we really want to do this? Government as we've known it since the country's inception has always been ambivalent and at many times, hostile to this ideal. And this idea is really the heart of my message to you this morning; what we learn in the passage of time from Martin Luther King's emergence to the now of Black Lives Matter. It's the emergence of ordinary people as leaders and spokespeople who are the real force for change—people who keep their eyes on the prize, as the old song goes. And today, this need is more urgent than it has ever been. And perhaps, too, more possible. I am, in effect, challenging each one of you to be the change. A luta continua.
Charles Cobb and SNCC veteran Philippa Jackson, who introducted Cobb at the church service.
Thank you.
Charlie Cobb
Peoples Congregational Church
Washington, DC
January 15, 2017
Charles E. Cobb Jr. is a former field secretary of the Student Nonviolent Coordinating Committee (SNCC), a journalist, and the author of a number of books including This Nonviolent Stuff'll Get You Killed: How Guns Made the Civil Rights Movement Possible (Basic Books, 2014). Read more.
Related Materials
Book – Non-fiction. By Charles E. Cobb Jr. 2015. 328 pages.
Cobb Jr. describes the vital role that armed self-defense played in the survival and liberation of black communities in America during the Southern Freedom Movement of the 1960s.
Book – Non-fiction. By Robert P. Moses and Charles E. Cobb Jr. 2001. 256 pages.
Algebra Project founder on math literacy and civil rights.
Charlottesville, VA October 20, 2016
Remarks on the occasion of a Symposium at the University of Virginia on the life and work of Julian Bond:
Julian Bond, SNCC, the Movement—Changing a Generation
Remarks by Charles Cobb, Jr.
It is difficult to imagine a grown-up civil rights leader in 1960—someone our parents or grandparents age—voicing something like this:
Look at that gal
Shake that thang
We can't all be
Martin Luther King
This is a young voice and Julian Bond is the young voice we are hearing. He wrote that in 1960; and setting aside the fact that we hear a male voice lasciviously eying someone of the opposite sex, the deeper meaning of this couplet reflects an important change defining his and my generation. "We can't all be Martin Luther King."
It is perhaps worth briefly noting before going further that Julian once wanted to be a standup comedian and with another important figure in SNCC, Connie Curry, even enrolled in a comedy school for a time. Students of his here at this university have almost certainly encountered his wry humor.
But getting back to my main point: It is unfortunate that mid-20th century civil rights struggle has come to be largely defined by mass protest in public spaces led by charismatic leaders, with Martin Luther King being the great symbol of this—and in making this comment let me stress that I am not attacking Dr. King. However, the young people who spilled into the southern freedom movement, creating SNCC and expanding CORE—the Congress of Racial Equality, changed the dynamic of civil rights struggle by making a commitment to community organizing at the grassroots in the black belt south. It was struggle at this level that actually powered the movement. There is a straight line, for example, between the grassroot organizing that led to the creation of the Mississippi Freedom Democratic Party and the election of Barak Obama. Tim Jenkins here can tell you how student protests in Atlanta got John Kennedy elected in 1960.
I do not have enough time to even begin elaborating on all of the dimensions of this organizing tradition, but it is important to note here that community organizing around ideas of freedom is a very old tradition in America's Black communities. Enslaved Africans, after all, were not marching in protest on auction blocks nor sitting-in in plantation manor dining rooms seeking a seat at "massa's" table. No. They were organizing—escapes, revolts, sabotage, even assassinations. They were also communicating in various ways ideas of rebellion and resistance. The kind of role Julian played as SNCC communications director began long before SNCC or the 20th century.
However, whether we start with resistance and revolts by African people in the 17th, 18th or 19th centuries, or with mid-20th century struggle, key to understanding Black struggle are the challenges Black people made to one another within the Black community. This aspect of the movement is often overlooked. Like most journalists, I am always walking around with a few stories in my pocket. So, here is one that immediately comes to mind that Julian liked to tell explaining his first involvement with the movement. The sit-ins had just erupted in Greensboro, North Carolina. Julian, a student at Morehouse College in Atlanta, was sitting in a student hangout when another student, Lonnie King, came up to him with a copy of the Atlanta Daily World, Atlanta's daily Back newspaper. A headline read "Greensboro students sit in for third day."
"Have you seen this?" Lonnie asked him.
"Yes," Julian replied.
"What do you think about it?" Lonnie inquired.
"I think it's great!" said Julian
"Don't you think it ought to happen here? Lonnie pressed.
"Oh I'm sure it will," responded Julian. "Surely someone here will do it."
Then what came to me, recalled Julian, "as it came to others in those early days in 1960, a query, an invitation, and a command."
"Why don't we make it happen here."
Thus the Atlanta movement was born. Look at any movement event and you will see they almost always begin with challenges within the Black community. This is how today's Movement for Black Lives began although with facebook, Twitter, Instagram and the like they have a lot more at their disposal than we had in 1960. Lawrence Guyot a SNCC field secretary who became chair of the Mississippi Freedom Democratic Party (MFDP) remarked once, "You can't challenge institutions without challenging yourself first." Or, as Congressman John Lewis, a former SNCC Chairman, challenged students in a commencement address this past spring: "If you see something that's not right, not fair, not just, do something about it. Say something. Do something. Have the courage. Have the backbone to get in the way."
This is Julian's story. And his story, like the story of the movement itself, did not spring on the scene fully developed in its ideas and practices. It evolved; it grew. The Julian Bond who refused to disassociate himself from SNCC's 1966 anti-Vietnam war statement had grown/evolved considerably from the Julian Bond who emerged as one of the sit-in leaders of the Atlanta Movement that wondered whether Bob Moses, another legendary figure in SNCC, might be a Communist. Just as the SNCC of 1966 embracing Black Power had evolved from the SNCC that was formed as nonviolent sit-ins spread in 1960. The lesson for those taking seriously and wanting to understand today's still-emergent movement for black lives is that the young minds shaping it are still in the process of forming the ideas and practices that will drive it. I sit on the board of the SNCC Legacy Project and we consistently try and make our experiences of half a century ago available for use when relevant.
Crucial to understanding Julian's story, and resonating today with the surge of young activism of the Movement for Black Lives, is the emergence of young people into leadership that accompanied the sit-in movement. It was something of a first in the long history of Black struggle although I do not mean to diminish the significance of the Southern Negro Youth Congress formed in the mid 1930s—SNYC, the first Snick some of whose leaders were influential with us in the 1960s. Still, shortly after sit-ins began in Greensboro, Martin Luther King speaking in Durham, North Carolina could declare, "What is fresh, what is new in your fight is the fact that it was initiated, fed and sustained by students." Dr. King wanted these young activists to organize and become part of his organization, SCLC. The students, encouraged by one of the great figures of 20th century struggle, Ella Baker, resisted that and thus SNCC was born. Julian was there at this birthing. Time forces me to skip over a lot of the nuance that forms part of this decision. But these are the roots of some legendary figures in the southern movement: John Lewis, Stokley Carmichael, Diane Nash, Ruby Doris Smith Robinson, Charles Sherrod, among them. And Julian.
One step leads to another. The sit-ins resulted in arrests for many. You have to understand, this movement was led by Black college students, many of whom were the first in their families to get to college. You weren't supposed to go to jail. You were supposed to, in the language of the time, "Make something of yourself." So what's happening. Again, with great relevance today I think, Charles Sherrod, SNCC's project director in Southwest Georgia captured exactly what speaking to a reporter after serving a 30-day sentence laboring on a road gang for sitting in in a segregated restaurant in Rock Hill South Carolina: "You get ideas in jail. You talk with other young people you have never seen. Right away we recognize each other. People like yourself, getting out of the past. We're up all night, sharing creativity, planning action. You learn the truth in prison, you learn wholeness. You find out the difference between being dead and alive."
That's Charles Sherrod at 22 years of age. You almost had to be young to think like that although some grownups come to mind: Bayard Rustin, Pauli Murray, James Farmer and Jim Forman. Among the young activists emerging in 1960 history was driving another momentous decision: Dropping out of school to commit full time to movement work. And if going to jail was difficult for parents and relatives to get their heads around, leaving school even for a short while made little sense at all. We live today in an era in which "gap years" for almost any purpose are fairly common. But back in the day when aunts, uncles, mom, dad, grandma and grandpa had scrapped together nickels, pennies, and dollars to get you to school. . . leaving, dropping out. What's wrong with you, boy!?
In my view and this of course can be debated, dropping out of school was the single most important decision that shaped SNCC. Julian was among that early group of dropouts. And this brings me to a point that I'll only make briefly here. Julian came from a prominent Black family. The backgrounds of those who left school to become part of SNCC's expanding work seems to have cut through traditional distinctions of class. Exploring this is worthy of another symposium. Furthering this was the influence of Ella Baker who stressed to SNCC the necessity of organizing from the bottom up in the rural black belt south. Neither Julian nor SNCC would have become what they became without her. Again, something worthy of another symposium.
I am running out of time so let me move quickly to some sort of conclusion. First, however, an acknowledgement of what Julian built in SNCC from the perspective of someone who was a SNCC field secretary in rural Mississippi. These places—Mississippi, Alabama, Georgia, Louisiana, could make you disappear. They were murderous though that seems to be forgotten these days. People got killed for trying to exercise rights we take for granted now. And Julian, as SNCC's communications director played an important role in keeping us alive. Via Julian, we had a route to public awareness. It was much harder to disappear us in these rural counties. This was something we could not do very well from our various places as field secretaries. I am here in part to acknowledge this great debt to Julian and the department he built.
I have not done several things in this presentation; in particular, I have not presented a biography of Julian. You can go online or get a book for that. I have tried to give you some context for Julian's movement life which leads us to a legacy that I think the arc of his life reveals: That is that struggle continues; a luta continua as Mozambican freedom fighters used to say. Clearly much work remains to be done. The challenge of this work is really a challenge to you. Want to make change. Change yourself. See something wrong; do something about it.
Thank you.
October 20, 2016
University of Virginia
Charlottesville, Virginia